Escape Flight was a one-stop provider that focuses on making your weekend getaway easier than any other travel site. Specifically designed to target people in the big cities, who were looking for last-minute weekend getaways but were overwhelmed by analysis paralysis with hundreds of available flights. 

The free online tool presented only three carefully curated suggestions based on the most important criteria for you, such as warm weather, flight time or budget. Brought onboard to establish the voice of brand, from site to scripts and search algorithms.

 "FWA praised it for its ingenuity in concept, standout design and amusing tone of voice that puts most websites to shame" 
THIS :90 LAUNCH FILM SUMS IT UP NICELY

A selection of copy from the launch.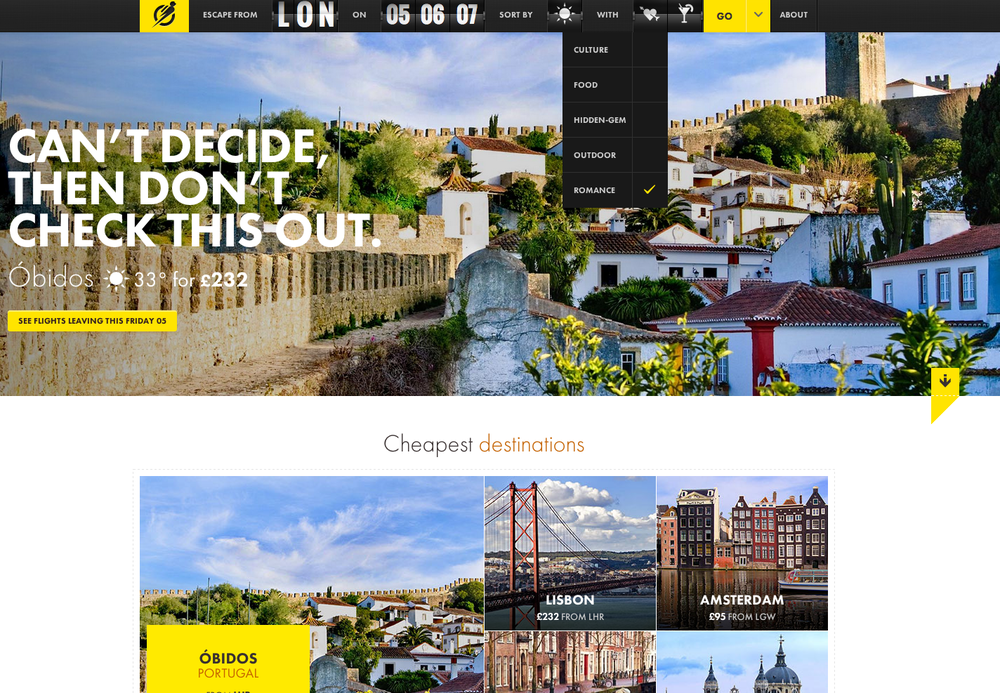 The WORK picked up numerous awards IN THE DIGITAL SPHERE 
Adobe's "Cutting Edge Creativity" award

Credits ~ Agency: B-Reel London | Production: B-Reel London | Developers: DogStudio & NUOK | Creatives: Riccardo Giraldi, Claudio Guglieri, MIKE Cuthell.